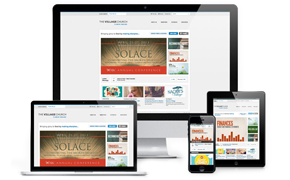 The Village Church Partners With MonkDev to Focus on Ministry

Located in Dallas, The Village Church exists to bring glory to God by making disciples through gospel-centered worship, gospel-centered community, gospel-centered service and gospel-centered multiplication. The Village has experienced tremendous growth since Matt Chandler and the team began in 2002.
Their Goals
Increase the participation in small groups
Increase the engagement in serving
Better access and more utilization of resources
Better access to campus-specific information as they grow and add new campuses

Click to Enlarge
The Situation
From a handful of people meeting in a high school gymnasium to 4 campuses and 12 worship services in 6 years the Village's technology needs had to have the ability to scale and support growth. Shortly after Scott Ballard joined the Village as their Web Manager, he realized that he couldn't continue to lead their online efforts alone. Amongst Scott's first initiatives was to revamp the Village's web presence and investigate a tool where non-technical staff could help him manage online technology regardless of coding expertise. Scott wanted to forge a relationship with a company not only with great developers, but also with a ministry heart. A friend referred Scott to Monk and a gospel-centered relationship slowly began to develop.

Using our unique Mission Alignment Process (MAP) we were able to connect the mission and vision of The Village Church with a customized technology solution paving the path for clear next steps and a "critical path" for their online community. We helped The Village Church leverage their technology to accelerate their mission.
The Stats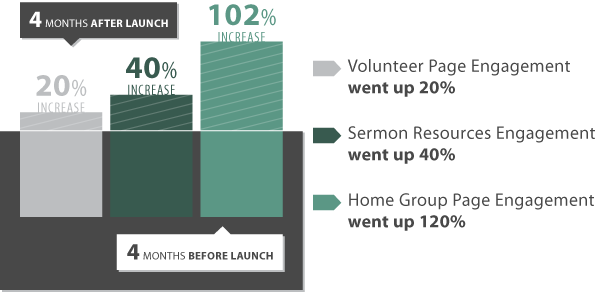 The Solution
Through a full day onsite session, MonkDev's team worked with The Village staff to identify their goals and weaknesses. This translated into the design and user experience of their new site. New organization of pages and campuses was the foundation of the site, followed by prominent call to actions, cleaner layout design and an emphasis on small groups. Content was reduced to help do away with clutter, making areas of interest stand out. On the backend of the design, less content meant less updating. The workload for data entry was significantly reduced, making updates and last-minute changes an easy process. The Village Church took this a step further with the later addition of responsive breakpoints. Now their site is optimized for mobile viewing. View Site Now
The Services