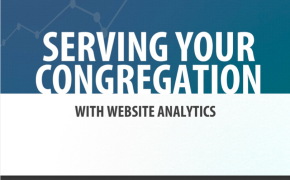 What gets measured gets managed.
Let's face it: Churches have a difficult time with website analytics. Other organizations tend to have more clear-cut operational goals when it comes to their web presence; goals which tend to be more quantifiable. Businesses can track how many people visit a sales page and convert into customers. Nonprofits look at how many users are visiting their donations or membership page and track how many are converting into first-time donors. But churches seem to struggle with data-based website optimization because of the relational nature of a church's goals. How does one track "number of lives changed" in Google Analytics?
Although the goals may be different, they can be measured. Once they're measurable, website data can give a clear picture into how people are using (or not using) your church's website. For instance, most returning church website visitors are looking for a way to download or listen to sermons. But what are new visitors looking for? Further, what are Google users looking for on your church website versus someone who inputs the URL directly? With each visit, users are telling you something about themselves. You just need to know where to look. In this month's ebook, we're featuring an in-depth look at the visual analytics from Biltmore Baptist, located in Arden, North Carolina. Biltmore has been an amazing partner, allowing us full access to their website data. The purpose of this ebook is to provide you a real-life case study featuring a growing church using web analytics to better serve their current and future congregation. Biltmore uses their website data to attract, engage, and develop their community in a more effective way. This ebook will show you how to do the same.
To download this free resource, please fill out the form below.